"Love The World Away" - love in the time of virus
Omnesia's Medella Kingston and M2 were able to create this song while socially distanced and both musicians have heartstrings which stretch from California to New York. This is a layered love song for New York itself, but also an exploration of the loneliness experienced by those quarantined on their own. Home can be a sanctuary for a happy couple, but... does Rusty have imaginary friends?
On Spotify      On Apple Music     On Amazon Music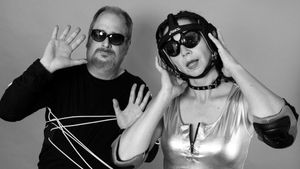 vocalist medella kingston + 
eclectic guitarist/ producer M2
= auditory omakase, where electro-pop, new wave and
 future vintage rock find common ground
 "Your music reminds of a combo of Siouxsie and the Banshee and Dresden Dolls. It's beautifully layered, sweeping and sensual.
Addictively haunting!"
- Luscious Purr  REVERBNATION
Buy music on our website. Buy either pristine high fidelity CD Wavs at 44.1 or 320 mp3s at:
Either format  is just $7 for 14 new tracks, 51 minutes of ear candy….
say hello to candy, our latest video